No.1 BIGGEST Baby Fair in South East Asia! (09-11 October 2015)
THE BIGGEST BABY FAIR IN SOUTH EAST ASIA where major strollerS, Cots, CARRIERS, Toys, BABY GADGETS & NECESsITIES wiil be at!
Massive Variety of Brands + Superb Deals! More than 50,000+ products on sale for you to choose from!
Baby Market is the Biggest Baby Fair in South East Asia, entirely dedicated to Bump, Baby & You. This mega baby event offers amazing shopping experience, expert advice, professional services, product demonstrations, and features everything under one roof for prenatal, birth, breastfeeding, babies, toddlers, parents and grandparents too!
The Fair aims to bring the biggest names in the maternity, baby and family industries exclusively, and you can expect invaluable advice, special deals and great bargains on your favourite products and services. If you are a parent expecting a baby or planning a family, Baby Market Fair is the place for you!
Fri-Sat: 11am-9pm, Sun: 11am-8pm
Baby Market Poll statistics
This is the No.1 BIGGEST Baby fair in Singapore bringing you heaps of exclusive great deals and massive discounts on a large variety of brands. Everything under one roof for you and your baby. Check out below to see how mummies feel about Baby Market Fair!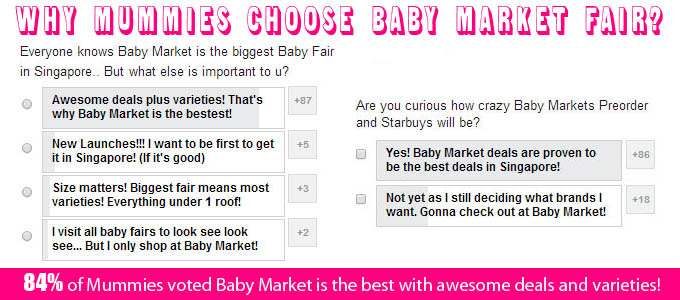 We did a poll with 173 mummies on what they they think about the offers at Baby Market Fair, and most voted Baby Market has the best deals and none of the mummies voted not as good compared to deparmental stores, onlines sales and other baby fairs!
To receive the latest updates on Star buys and special promotions at Baby Market Fair, please register with us TODAY!
Baby Market, No.1 BIGGEST Baby Fair in South East Asia & Singapore (09-11 October 2015, Singapore EXPO)
Fri-Sat: 11am-9pm, Sun: 11am-8pm
Sign Up for Latest Updates!

BIGGEST Baby Market Fair in Southeast Asia with bigger deals, even better offers and super crazy promotions!

Register now and be kept in the loop with the latest updates & more!

Participating Brands at Baby Market!

50,000+ Baby & Maternity Products, 150+ Exhibitors, over 800+ Brands only at Baby Market, The BIGGEST Baby Fair in Southeast Asia!

Ultimate Baby Market Shopping Magazine

Bargain hunting is easier than ever with Baby Market Ultimate Shopping Magazine. Shopping Checklist, Floorplan, Starbuys and show details to make shopping a breeze!
The right of admission is reserved. Management reserves the right to, or to remove any persons from Baby Market Fair.