Baby Market Floorplan (BIGGEST Baby Fair in Southeast Asia)
13-15 October 2017 l Singapore Expo l Fri-Sat: 11am-9pm Sun: 11am-8pm
HUMONGOUS Shopping Area with everything under one BIG Roof for Baby & You!

We know that shopping for your newborn can be a daunting task, especially since there is such a huge variety of baby products in the market. It can also get confusing, especially for new parents. How many undershirts, sleepers, bottles and burping cloths does your little one need? Which lotion and cream should you stock up on? What should you have in your diaper bag? What other essentials would your newborn require? Questions, questions, and more questions!

But fret not! Our all-new Baby Market Shopping Magazine will keep you organize and help you figure out exactly what you'll need! Hurry check out the Massive Baby Market Floorplan with Brands listing to make shopping convenient and easy!

All you need to do is download it, print it out, plan your route and bring it with you on your trip to the BIGGEST Baby Fair in Southeast Asia!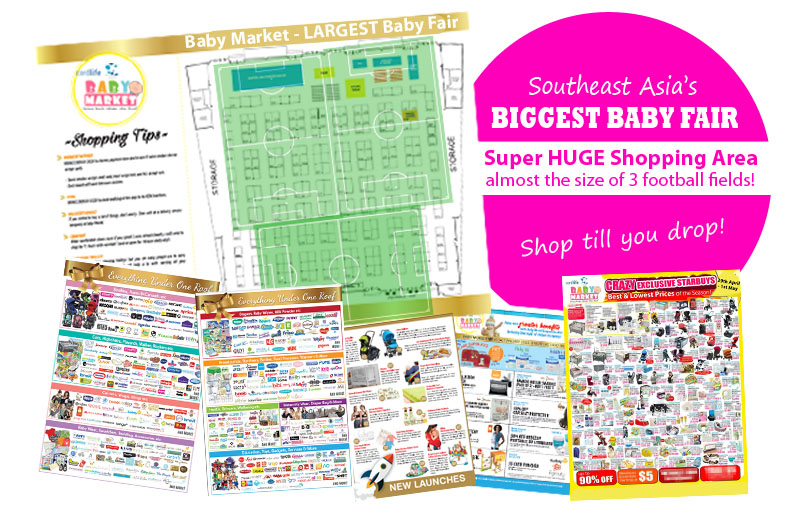 Register Now and Be the FIRST to receive
The Ultimate Baby Market Shopping Magazine with Massive Floorplan!

Ultimate Baby Market Shopping Magazine includes:


Baby Market Floorplan
Crazy StayBuys
Exciting 2017 New Launches
Mega Savings Discount Coupons
Early Bird Special Deals
Participating Brands
Directory Listing and Corresponding Booths
Baby Essential Shopping Checklist
Mums/Mums-to-be Essential Checklist
Pregnancy Hospital Checklist
Pregnancy & Baby Advice
Shopping Guide & Tips
And More!