Most Exciting Asian Parenting Summit
by Leading Speakers & Experts
Join us for the 2nd edition of the LARGEST Parenting Summit in Asia featuring 20 new speakers from leading enrichment and healthcare brands.
Toddler Parenting Talk Topics (12-24mths):
- Raising a confident child with life skills
- Practical tips for developing critical thinking in toddlers
- Role of play on learning and development
- Managing common skin allergies in young children
Pre-School Parenting Talk Topics (3-6yrs):
- Nurturing an effective reader
- Coding for a strong foundation in Math
- 101s in disciplining my kid
- Tips to training good handwriting
Primary School Parenting Talk Topics (7-9yrs):
- Get a headstart in Science
- Mastering components of effective English writing
- Smart eating for smarter minds
- Mastering Math: Tips to coaching your kid
**Pre-School Kids Drop Off Workshops (3-9yrs):
- Handwriting Workshop - Reading & Writing Workshop
- Football Workshop - Weiqi Workshop
- Dance & Art Workshop - Martial Arts Workshop
- Go Jetters' Screening Session - Abacus Workshop
Also giving away a FREE Goodie Bag worth for every ticket purchased!!
Enjoy great savings with the Early Bird Ticket Special too!
SINGLE TICKET : $10 (u.p: $20)
COUPLE TICKET: $15 (u.p: $30)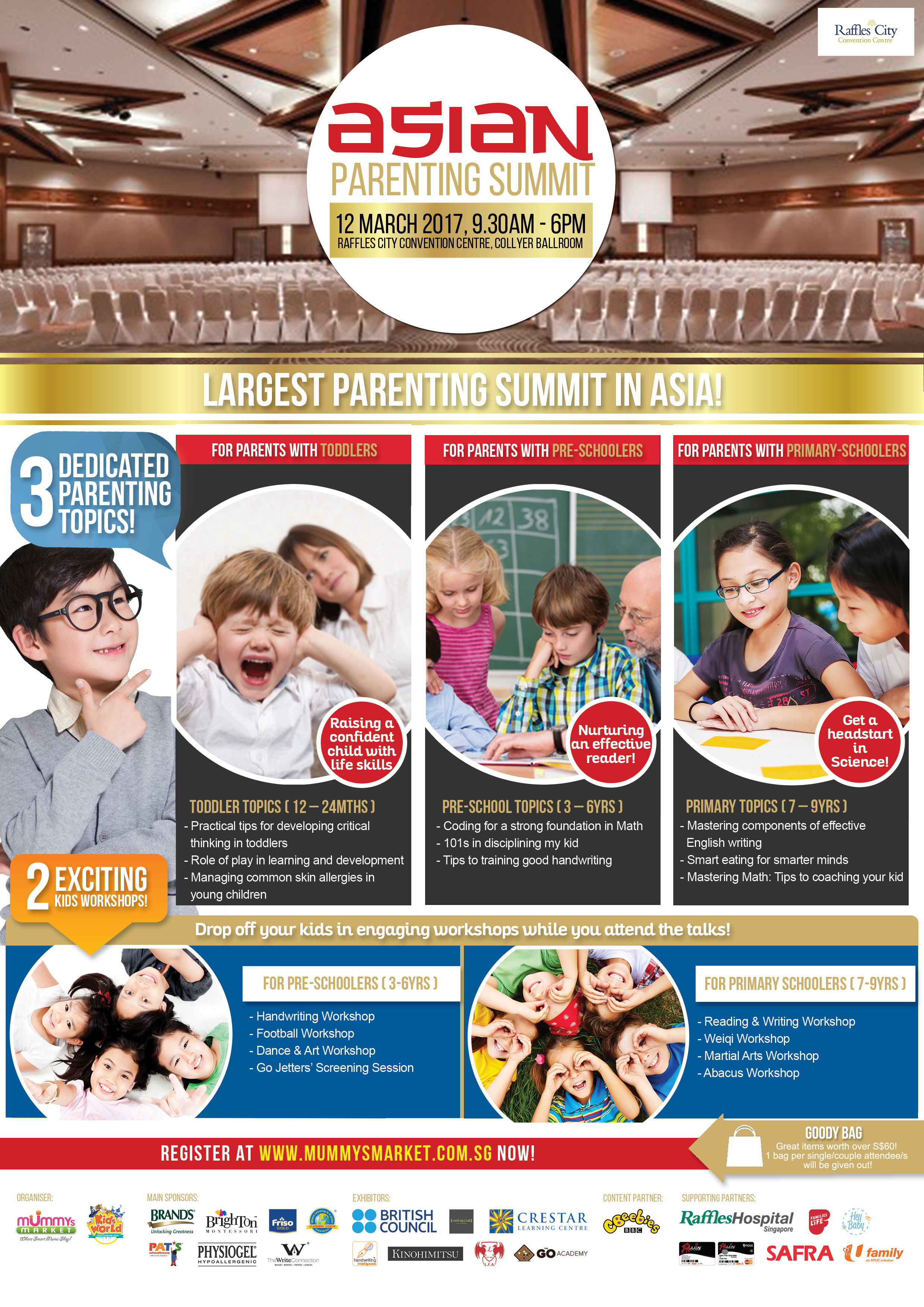 What are you waiting for?
Hurry! Grab your FREE Goody Bag and EARLY BIRD tickets today!

Workshop:  Largest Asian Parenting Summit (Dedicated Parenting Topics by the Experts)
Date:           Sunday, March 12th, 2017 
Time:           9:30 am - 6:00 pm
Venue:         Raffles City Convention Centre Collyer Ballroom