Alilo Smarty Shake and Tell Rattle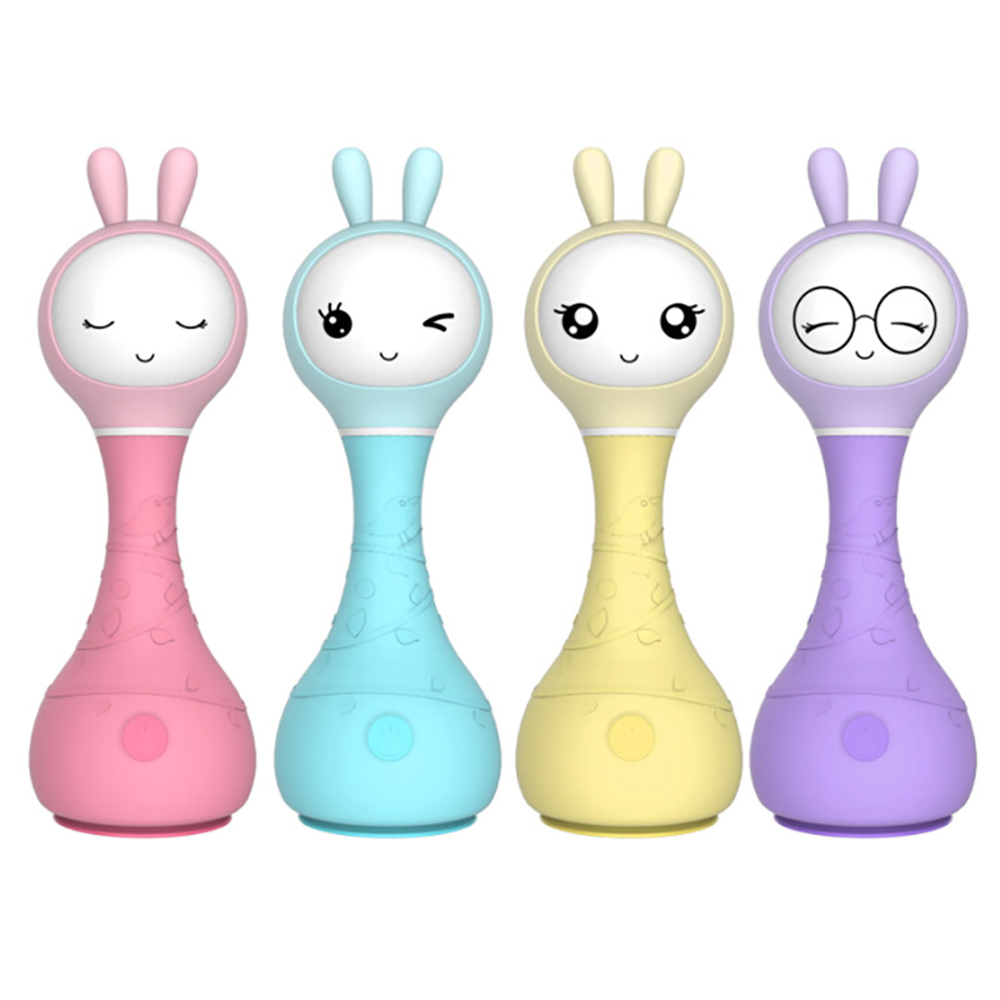 The Award Winning Alilo Smarty Shake and Tell Rattle is sure to delight and become a new best friend.
Just give Smarty a shake or press the soft silicone button to switch through a variety of rhymes, stories, songs and intriguing rattle sounds that includes bubbles popping, a saxophone, and a kitty meowing - all played from a Hi-Fi speaker with amazing sound.
Help little ones relax with the classical music setting or a bedtime story.
Smarty loves to name colors and its ears will light up with the color when it is saying the color name
4 modes of use: Smart Rattle, Story, Songs, Music
Smart Rattle – Motion triggered sound effects that changes over time enhances stimulation and discovery for the child
Story/Songs/Music – Pre-loaded audio tracks to entertain and sooth the child
Color Identifying Technology that can be activated anytime (simply place Smarty over an object and press down lightly. Smarty's ears will then light up and also announce the corresponding color*)
Specially designed for those tiny hands & child-safe without any sharp edges
Drop-resistant with ABS plastic body shell that is 30 times stronger than normal plastic)
High quality playback (high fidelity, dual-magnetic speakers)
Soft silicon ears with colour-changing LED light
Volume control
Eco & cost friendly (built in rechargeable battery)
Conforms to safety requirements under EN71 & ASTM F963
AcoMo Pacifier Sterilizer


Sterilization Rate 99.9% !
Small Size and Portable!!
4 Minutes Sterilization!!
AcoMo Pacifier. Super fast UVC sterilization.Easy to carry,ready to clean, keep your baby health. Four minutes you can quickly complete the Sterilization.
99.9% Sterilization Rate: A special patented design with an ultraviolet (UV) lamp - and a touch of ozone -cleanse your baby's pacifiers with more than twice the bacteria- killing power necessary, to assure you of safety. The sterilization period takes as little as 4 minutes, leaving your baby with a safe and clean pacifier or bottle. All products have been tested and confirmed by Intertek to remove 99.9% of germs.
Toxic Free: Nipple clamp made of food grade silicone, shell using anti UV PP, a small groove base intermediate. Our holder could put all kinds of cross infection, we like to give your baby completely protection.
Usual Price:
$92.90

Baby Market:
$62.40 only!!

Early Bird Special ONLY from 11am-1pm daily!!:
$62.40 only!!

Grab it at Booth J29